Triton Business Professionals of America (BPA) sent 31 members to the State Leadership Conference on March 9-11, where they smashed records by crowning a historic five State Champions, 15 National trip winners, 27 top ten finishers, and had two State Officers.
"Every year, I say I'm blessed with the best, and this year is no different," said Advisor Rebecca Goossens. "This is the most students Triton has ever had qualify for Nationals, and we also had 87% of our students place in the Top 10 of their events – a success rate I'd be willing to bet is the best in the State."
Right out of the gate, senior Paige DeVetter was crowned State Champion in Desktop Publishing, followed by sophomore Katya Wheeler as State Champion in Computer Modeling. Next up, the Triton Broadcast News Teams swept the podium, with seniors Talia Kelley, Kaitlyn Krupa, and Lydia Stanton taking home the Championship and seniors Liam Dostal, Phineas Quella, and Weston Haugen snapping up second place. Senior Ari Wennes scooped up a third-placed finish in Health Administration, while the Visual Design Team made up of sophomores Bryar Quimby and Ashley Romero also placed third. Sophomores AJ Kozisek and Camila Medina nabbed fourth and fifth place finishes respectively in C# Programming and Business Law + Ethics. Rounding out the crew of 15 who punched their tickets to the National Competition were seniors Mariah Busch, who finished seventh in Health Administration, and State President Wyatt Bendickson.
In addition, Bendickson, along with Tyler Gnagey and Jude Gosse, graced the stage at the Grand Awards Ceremony for placing fourth in Podcast Production Team, as did the Video Production team of juniors Noah Kleinwort, Alejandro Ortiz, and Quinn Short, who placed fifth. Yenlik Tulessova also placed in the top 10 for her Entrepreneurship event, along with Paige DeVetter for Graphic Design, Liam Dostal for Computer Security, Maddie Jarrett for Interview Skills, Tegan Ridenour for Linux Fundamentals, and the Small Business Management Team of MacKenzie Geers, Danielle Hallaway, Corey Lilledahl, and Logan Tufte.
"BPA plays such an important role for our students, as it provides them with unique opportunities and benefits to learn real-life skills, grow professionally, contribute to their community through service, and compete in areas they are passionate about," said Goossens.
The students qualified for the State competition earlier this year by competing individually and in teams in a variety of areas including accounting, video editing, web design, graphic design, podcast creation, computer programming, health administration, information technology, and legal procedures At the State competition, they put their talents to the test against winners from eight other regions throughout the state and were required to learn and develop numerous soft and hard skills and abilities and then demonstrate their knowledge by taking a test, creating a project, or presenting to a judge. Industry leaders, business owners, and experts in their fields judged the contest events, where the top five individuals, top three judged individuals, and top three teams from each event earned trips to Nationals.
This April, Bendickson, Busch, DeVetter, Dostal, Haugen, Kelley, Kozisek, Krupa, Medina, Quella, Quimby, Romero, Stanton, Wennes, and Wheeler will travel to Anaheim, CA to compete with roughly 6,000 top students from across the United States at the 2023 Annual National Leadership Conference – the pinnacle of BPA competition.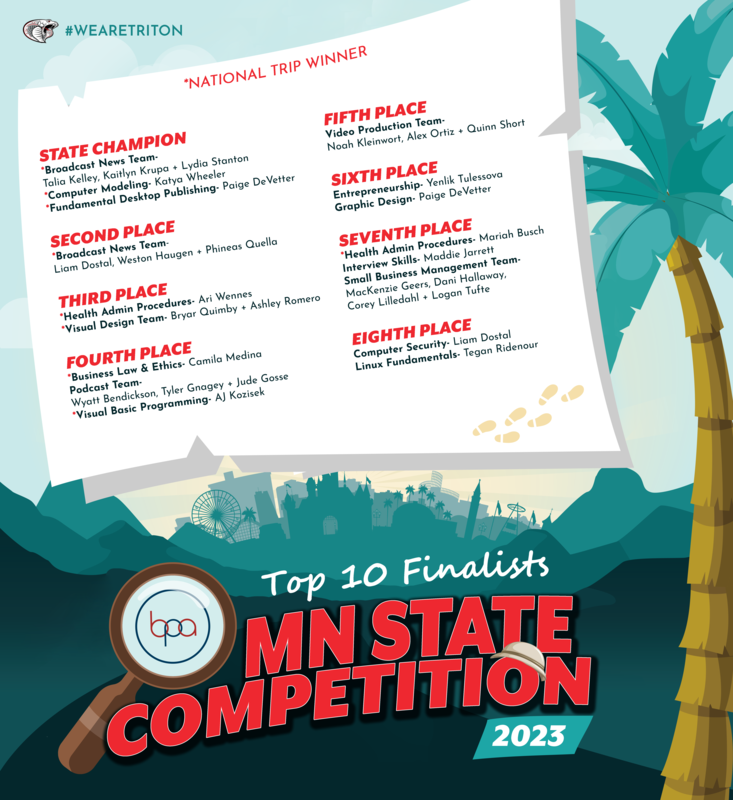 ABOUT MINNESOTA BPA:
Business Professionals of America is the leading Career and Technical Student Organization for students pursuing careers in business management, office administration, information technology and other related career fields.
BPA's mission is to develop and empower student leaders to discover their passion and change the world by creating unmatched opportunities in learning, professional growth, and service. BPA provides members with opportunities for growth through education, competition, community service, and personal development.
With 45,000 members in over 1,800 chapters across 25 states and Puerto Rico, as well as an international presence in China, Haiti and Peru, BPA is an organization that supports business and information technology educators by offering co-curricular exercises based on national standards. For more information about Minnesota BPA, please visit www.mnbpa.org.