Triton Public Schools will be 2 hours late on Wednesday, January 4th. Cobra Care will be open.

Targeted services for today, December 15, have been canceled. All students will be dismissed at 3:05 PM to walk, bus, or get picked up. Thank you!

A reminder that there is no school Oct. 20 and Oct. 21 due to MEA break. We look forward to seeing our students on Monday, October 24. #WeAreTriton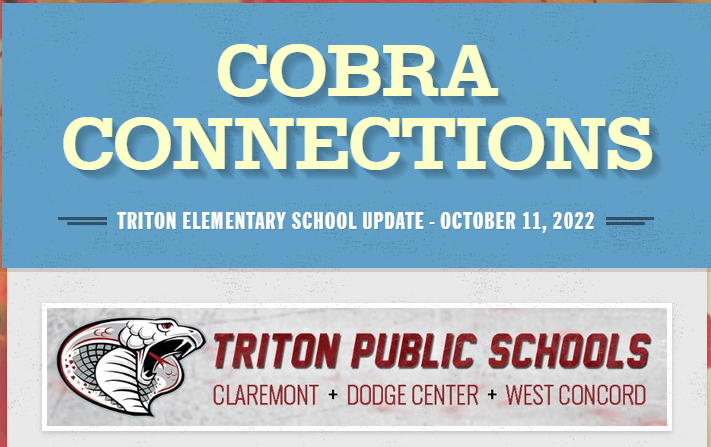 Reminder to Triton Elementary families that tomorrow is our picture day. All kindergarten through fifth-grade students will have their picture taken. In addition, preschool students that have class tomorrow will have their pictures taken.

KMTelecom is sponsoring the broadcast of the Triton football game Friday, Sept. 9th, 2022 at Goodhue on KDHL 920 AM, 97.9 FM and FREE KDHL app. Please spread the word. This is a great way to listen if you're not able to be there. Good luck to the team and coaches. Go Cobras!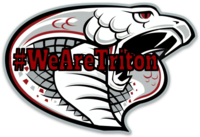 We look forward to meeting with all of our families this week on Tuesday and Wednesday. A reminder that we will NOT have pictures taken during these interview days. Our first day of school will be this Thursday, September 8. #WeAreTriton

TES Families We were notified that JOSTENS will not be able to take pictures during interview days next week. We received notification today at 3 PM that due to staff shortage they can not be here. We have rescheduled our picture day for PreK - 5 grade on September 30.

We need YOU to DONATE BLOOD! - Sign-up for the THS Blood Drive on 8/11 from 10 AM to 4 PM.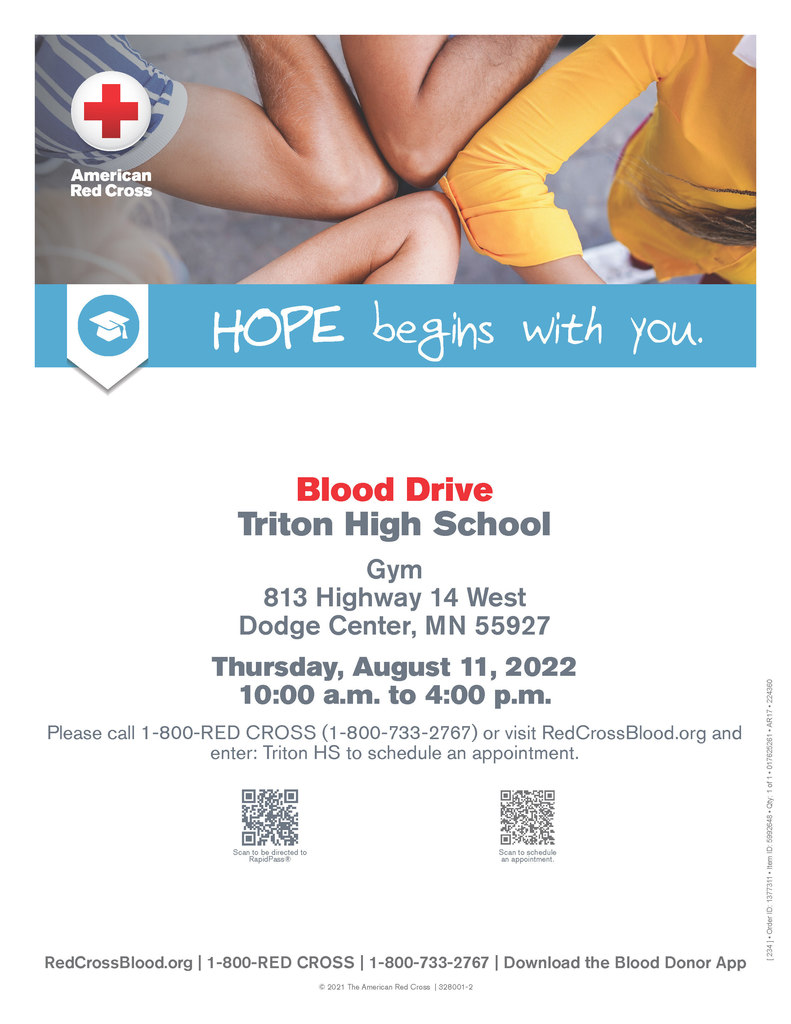 Tractor Day! It is great to see how excited the elementary students are when these big machines are driven to school and we can promote the great Triton FFA Program. #WeAreTriton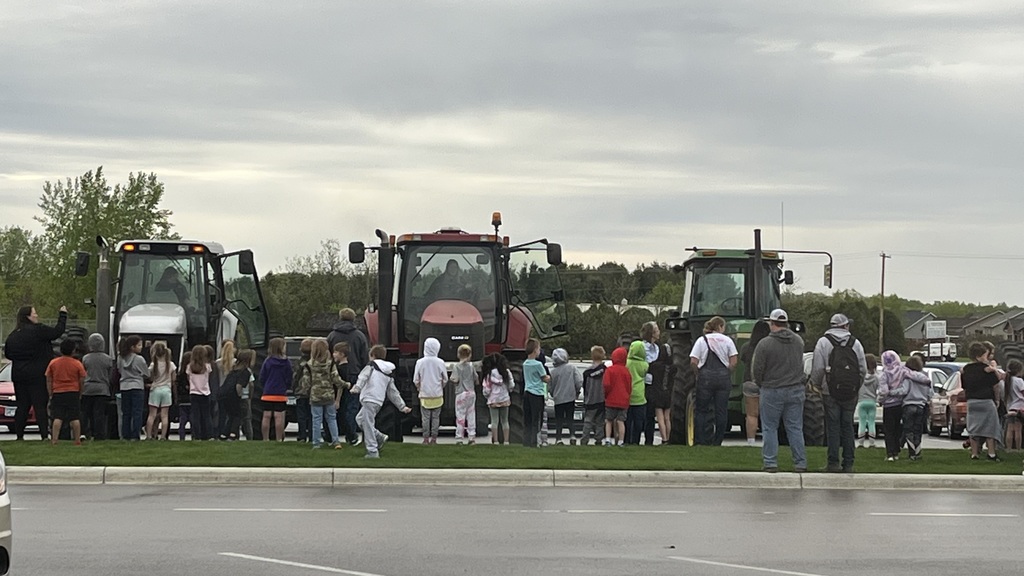 There's still time to bring in your plastic bags! ♻️🌎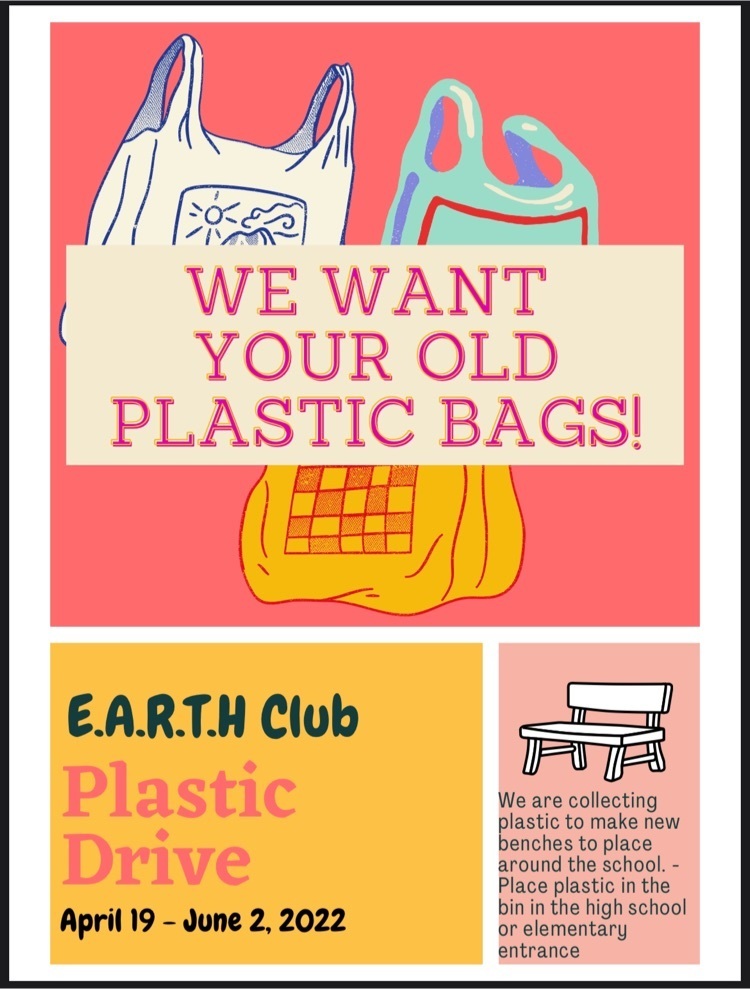 Make sure you get to the Kids Carnival this Saturday from 1-4 at Triton in the West Gym. Brought to you by Triton FCCLA! #WeAreTriton

Reminder that we will have an early out on Monday, March 14th. Triton Elementary will dismiss at 12:45 PM. The middle and high school will dismiss at 12:50 PM.

Just a reminder about the Parent Resource Fair tonight! #WeAreTriton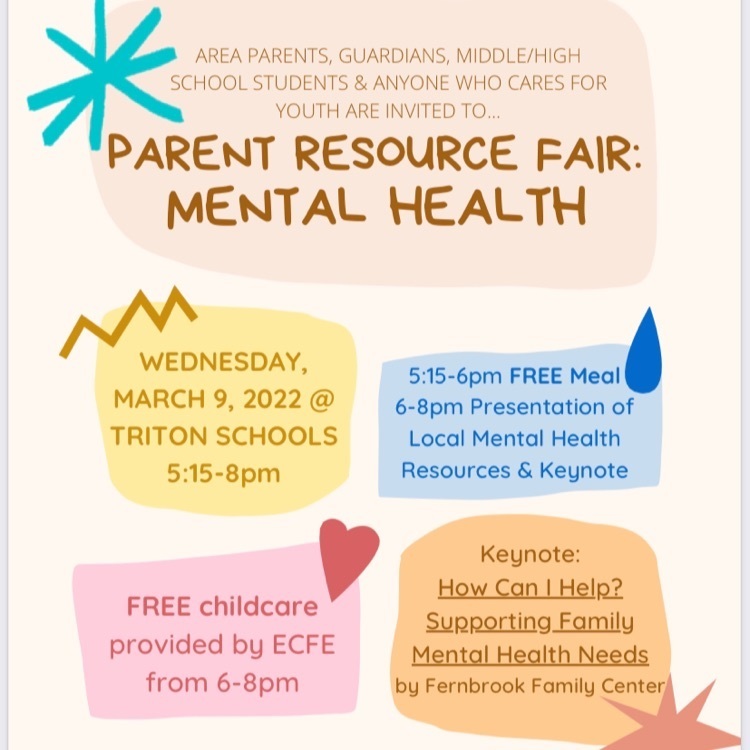 Conferences that were scheduled for tonight have been postponed until Monday, Feb. 28. Teachers will be following up with an additional message in case changes need to occur. #WeAreTriton

Join us for games, prizes, and a raffle at the Kid's Carnival on March 19 from 1-4 PM brought to you by Triton FCCLA!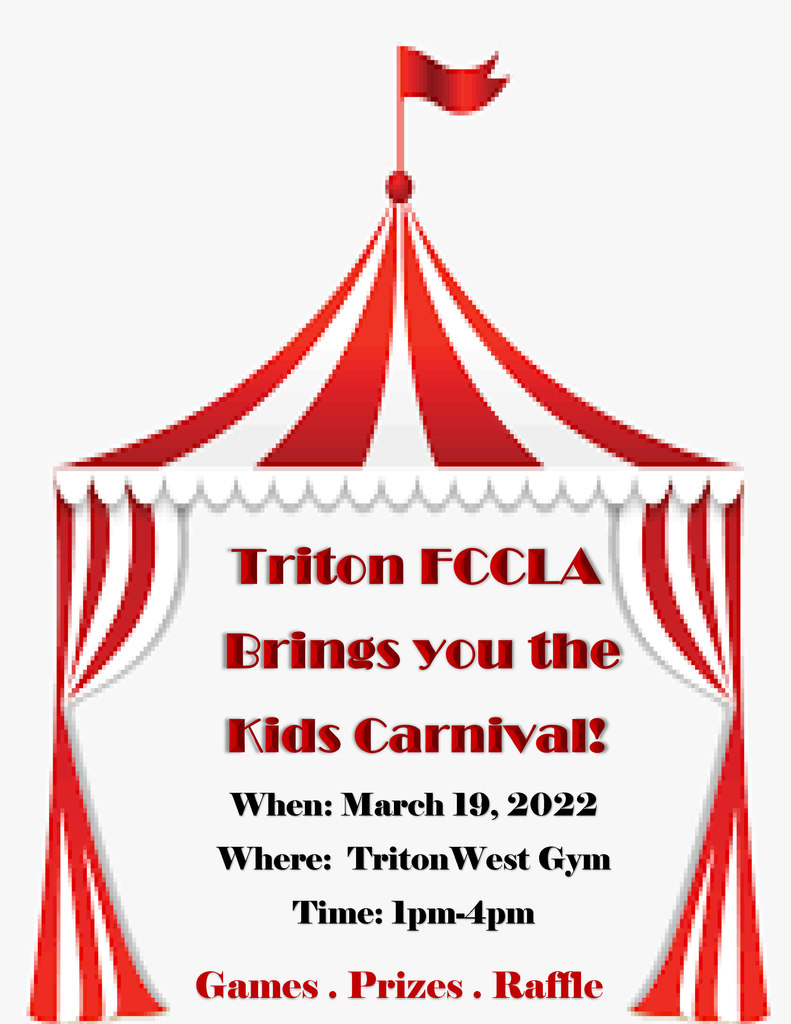 Triton will be 2 hours late on Wednesday, January 26th due to the extreme temperatures.

Reminder that we'll be having our Kindergarten Winter Concert at 9am on Thurs, Dec. 23 in the PAC. If you're unable to attend, we've set up a livestream for you to watch your student perform @
https://www.youtube.com/watch?v=MclterTDHjg
. Please join us for some fun winter music!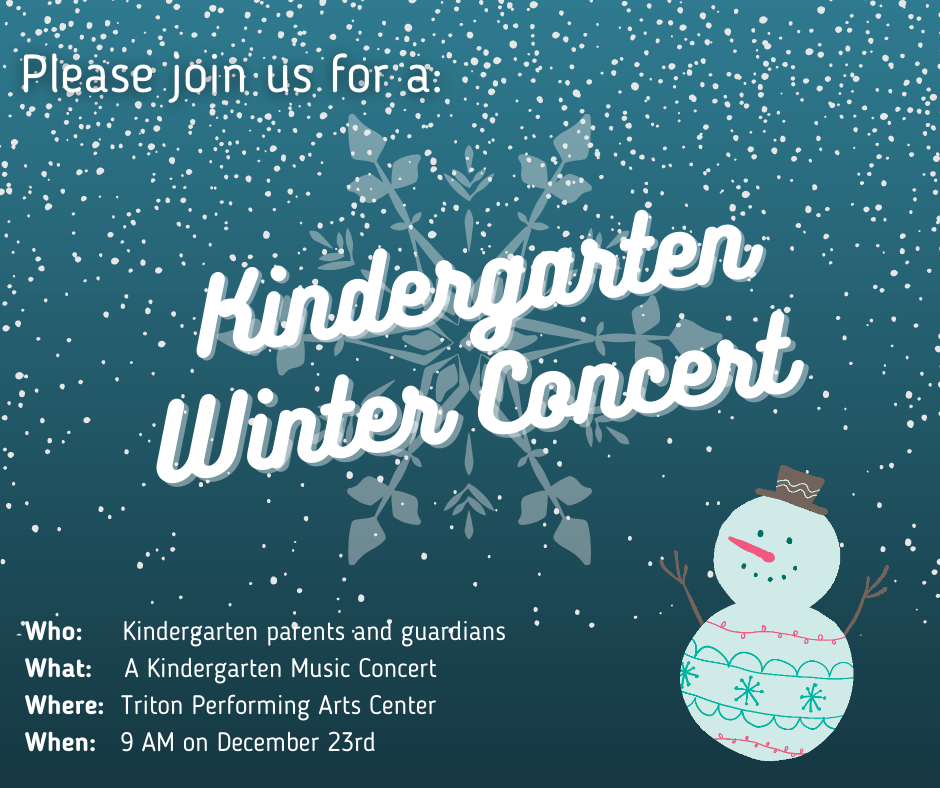 Mr. Haala was recognized by Taryn Wernecke during Dodge County Wildcat Hockey's Staff Appreciation Night. Taryn said that Mr. Haala is always encouraging her to do better- Thank you for all your hard work and dedication in making Triton a great place to learn and compete.!